"Our presentations never finish," says Bob Davis, associate vice president of marketing for HealthTrust Purchasing Group, the purchasing division for HCA Healthcare, which operates 178 hospitals and 119 surgical centers throughout the United States and United Kingdom.
In presentation management, files are never "done." Instead, they evolve, just like the businesses they represent. Slides and decks continually morph and adjust to the market and to the world in which the business operates. The companies and organizations that get the most out of presentation management evolve their content through a constant lifecycle – or what we call The Wheel.
The Wheel looks like this: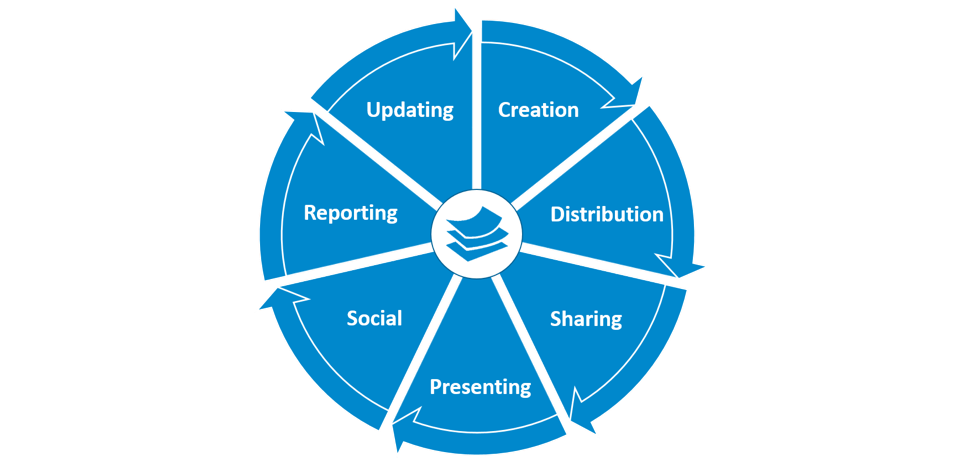 The process illustrated by The Wheel involves seven steps that generally follow each other, leading back to the beginning.
As we describe the elements in this chapter, you will notice that they overlap. In nature when something evolves there is no clearly defined start and end to a phase, but rather things morph. Same holds true for your presentation files. They morph from one phase to the next in the communication cycle of a corporate presentation.
The first step is creation – the act of creating slides and other content for presentations. Once created, the files are distributed through the presentation management system – into the cloud to be accessed by anyone with permission. Sharing goes hand-in-hand with distribution – in this case, sharing content with others inside or outside the enterprise.
Presenting is the act of using the content to present. Socializing the presentation is a way to get comments and feedback. Reporting means gathering data about how content is being used to better understand what's effective. Then all of that feedback and data can be used to update and improve slides and decks – a new act of creation that starts the process all over again. Let's break down the details of each step.