While easy to take for granted, PowerPoint presentations are often the last stop in the Sales Funnel, which makes them critically important. Typically, a prospective client will enter the funnel after encountering an ad, whether that be a digital banner or old school billboard.
From there, the prospect may check out the company's social properties or read a couple of third-party articles that the PR team landed. Then, they'll move on to the company website or blog so they can do some investigating for themselves, before they finally request a proposal or demo. Suddenly, it's showtime! A member of your team is actually going to present to a prospect! So, what's your presentation strategy?
Unfortunately, too many organizations will rely on some old PowerPoint that's been presented 100 times over, again and again. Companies are quick to invest hundreds of thousands of resources into the top of the Sales Funnel – the advertising, the social, the owned content – but when it comes to presentations, the vital last step, they rely on whatever they already have. That's like Mario having no plan for Bowser on his quest to save Princess Peach!
Presentations are a business tool that ensures you're able to finish the job and make the sale, which is why more organizations are turning to Presentation Management. Presentation Management puts a strategy around the creation, editing, broadcasting and repurposing of presentations and helps everyone at an organization speak more intelligently about the business. It also helps companies stay compliant from both a brand and regulatory standpoint.
Presentation management is made up of four crucial components:
1. Slide Library
Businesses are already investing heavily in creating the content that can be used in presentations, but the problem is that employees don't know where to find it. Despite their importance, these assets live scattered across company networks or employee email chains, lost in the ether.
This disorganization leads to sales reps piecing together one-off presentations that contain outdated pricing information or branding that's not finalized – an inefficient mess! That is why the first step in presentation management is to collect all approved communication assets and house them in one central location so they can be accessed by all employees.
2. Controlled Permissions
Controlled permissions are important because they ensure that employees only have access to the communication assets they need, while also instructing employees on what they can do with the presentation. For example, a marketing VP will likely have full authority over a presentation, but the associate it gets handed off to has no control over content and can only edit the slide layout – and not mistakenly include last year's sales figures!
3. Forced Messaging
Forced messages ensures the right – and complete – message is always communicated. If a case study is four slides, forced messaging won't allow a user to cherry pick slide one, two and three. Forced messaging benefits all businesses from a brand compliance perspective, but the function is particularly crucial in regulated industries like Pharma or Finance, where forgetting disclosure forms can result in costly fines or lawsuits.
4. Organization wide-updates
Presentation Management provides executives with a high-level overview of the entire presentation process, including what slides are being used, how they're being used, and who is using them. This insight become valued Business Intelligence because you're able to see what is working and edit what's not. Is your number one sales associate killing it with one particular slide? Then the boss can make it mandatory in sales decks company-wide.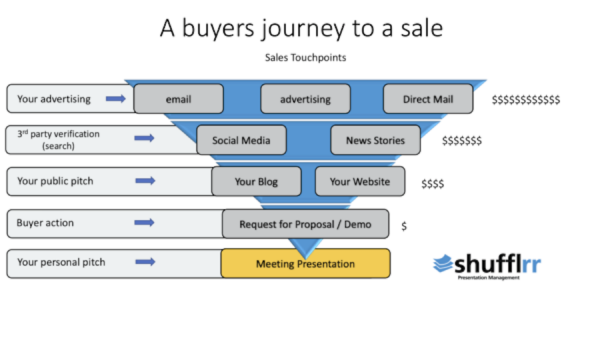 Conclusion:
A Presentation Management strategy leads to a more productive overall work environment while ensuring brand and regulatory compliance. The enhanced efficiency that comes after instilling a Presentation Management strategy has led to brands like Royal Caribbean produce $3.4million in corporate savings.
But more importantly, Presentation Management provides the sales team with a strategy so that they can close leads. It provides the organization with the infrastructure they need to make a sale and boost the business. With Presentation Management, you're sure to beat the business version of Bowser!