There is always something to tell!
Brands with a gripping story-line can become a massive hit. Disney and Coca-Cola unveiling the power of story-telling are some of the best examples to take into account. In fact, Tech giant Apple possesses brand stories that are legendary in their status. Due to this, more and more businesses are seen comprehending stories to come up with something that meets the eye of the consumer.
Some of the common challenges or misconceptions encountered by many of you are that the art of storytelling is not for those who are into active product development or a company that offers consistent roll-outs.
Apart from this, it shouldn't be obvious, and you must consider hiring a PR team that provides assistance in creating the right kind of visibility for your brand. Nope, it's nothing like that! On the contrary, I believe that every business should create interesting stuff that not only gets adequate media attention but also drive readership or viewership in no time. On the surface, it may seem that storytelling depends on the service or product but deep down the reality is way different.

A one-line answer for why storytelling is all the rage? That's because they can elicit different types of emotions. What you have to do is guide these emotions, but the question is how? Simple, by using your brand's story. Break out your storytelling skills from that random English class you took years ago and put them to work because every company has a story to tell. Although there are people who choose to write their About Us page as though an objective third-party, it's nothing more than provided information, no emotional touch, no feedback! That approach often comes across as stiff and insincere, and your brand becomes a major turn off, yawn. Instead, be yourself, as if you are almost talking to the prospect in person. Come up with a conversational style, be friendly and likable. Blog Tyrant is the best example to consider. By including both about me and about you sections in the page; he brings the best of both the worlds. Take a look!
#1 It has to be simple!
Do you know the best methods to tackle any tasks are the simplest ones? I mean come on you don't require writing a Martin Scorsese film here featuring a variety of plot twists, mysteries or thought-provoking endings with an open-ended interpretation. Your content has to be crisp with a clear beginning-middle-end. Apart from this:
Share as much information as possible
It has to be understood easily
Share a problem if your brand acknowledged
Focus on the solution part
Did you make any improvements
The aforementioned pointers will help show what makes your brand different from competing companies in this market segment. Now it is your chance to shine. Check this out!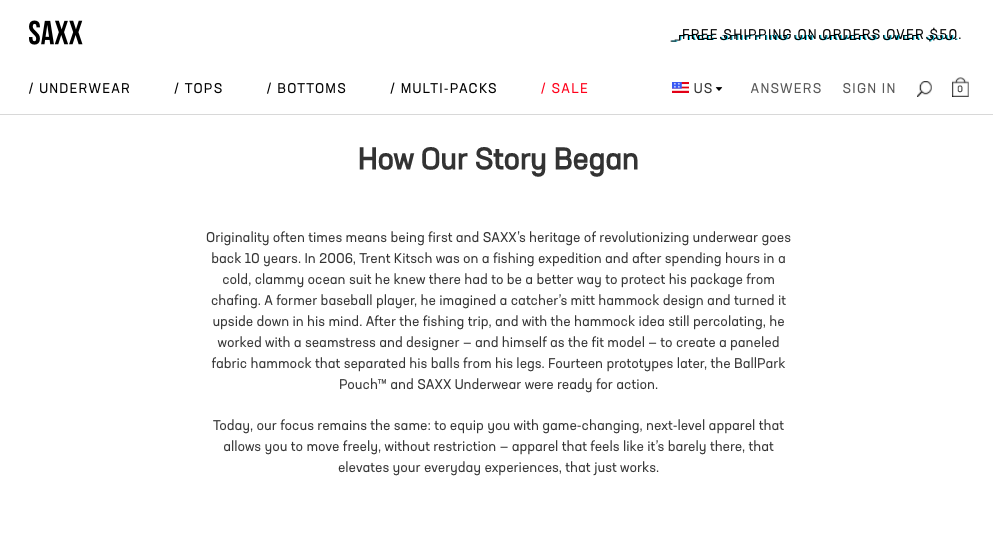 The company manufactures' as well as uniquely sells men's underwear. It reveals how the founder experienced discomfort while fishing and came up with a solution. You may find it quite interesting to know that it took 14 prototypes to finalize their very first product that became a grand success in no time.
The following page talks about how they landed on this design. If you take a close look at their stuff you will find both what the problem was and how they came up with an interesting solution; i.e., hammock-like pouch created to keep men comfortable and dry.
Lastly, it very important to know that the ending of your story shouldn't convey that things got over. After all, your business is still in operation and so is your story growing along the path of success.
#2 Your content must be relatable
Depending on where your company is currently located or whom you wish to target, your content must relate to your end users. No matter how your company grosses hundreds of thousands of dollars annually, you must tell a story your customer can easily relate to. You can try looking back at where you got started, how difficult or impossible was it for you to succeed? Inspiring, motivational, struggling for success is something that anyone can relate to easily. I mean we all deal with it on a daily basis just make sure to K-I-S-S (Keep it simple and sweet).
To get started with a rags-to-riches story, you can take a moment to acknowledge its history. Also, don't forget minor detailing. Let's see how Mush Oatmeal shares their brand story.
Instead of following those traditional practices or writing it, they chose a video to explain what kept them motivated as a brand. According to several stats, 43% of consumers say they want marketers to provide more video marketing content. In addition to this, the company also embarked their journey making it relatable to a great extent. They revealed how families buy big variety packs of oatmeal containing added sugar and preservatives from stores such as Costco. What made them stay ahead of the curve was how they came up with fresh and cold oatmeal, instead of a traditional hot bowl of oatmeal.
Hence it proves that even brands without a face can entice consumers to buy the products in a single go.
#3 Establish trust and credibility
Are you qualified enough to do whatever you do? The answer lies in adding credibility to your brand name. Let's take an example of a company that sells surfboards run by you (a professional surfer). You can talk about how you qualify into such space; your transition from surfing to building your own brands.
It is very crucial to have a strong, relatable background. Talk about some of your past jobs and experiences that made you qualified to create and run your current company. By positioning yourself as a credible source, your end customers will automatically come to you as they are more likely to trust you!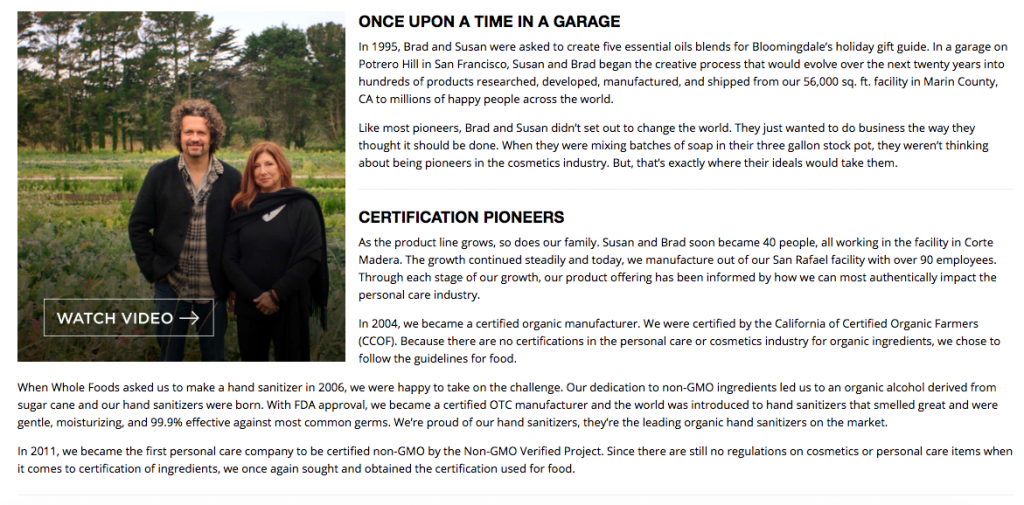 EO Products – Here the story talks about their humble beginnings of making soap in a three-gallon pot in their garage and how they became two pioneers in the cosmetics industry. After receiving FDA approval as a certified OTC manufacturer of these products, the company was also certified by the Non-GMO Verified Project.
The company is the best example of how to establish trust and credibility.
#4 Elicit an emotional response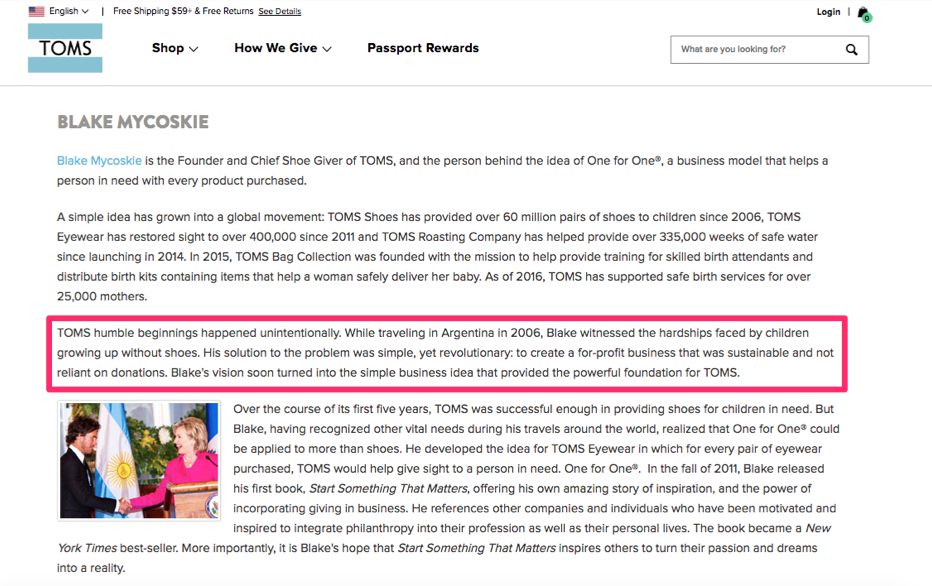 This one is my favorite! TOMS Shoes story: Blake Mycoskie, built a brand to help people in need. While he was travelling in Argentina, he saw how many children living there without shoes. He decided to simply change that! He came up with a business model that for every pair of shoes purchased, another pair of shoes is donated to someone in need.
Emotional stories always top the charts! You may not have a story your customers can relate to, but that doesn't mean you can't get them to feel a certain way. Here customers willingly bought shoes to help this cause. Financially speaking, the emotional response evoked something that drove enough sales. Regardless of the reason or the emotion attached to it, some of they might feel pity while others feel joyful thinking that money will help a worthy cause, it definitely works wonders.
#5 Appreciate what they have to say
Like I said before, everyone has something to say, and your customers are no exception. I mean not everyone will have the same story so allow them to share it with you. This will help you in creating user-generated content. And it is truly said that stories provided by your customers can ultimately help shape your overall brand story. Get to know how your product changed their lives and made things easier for them. Also, these short success stories can be shared on social media. Run contests or promotions that encourage people to share their stories. You can even share them on your website. Devote a specific section of your site to user stories. For instance, Tesla is a revolutionary name in the motor vehicle industry. The company builds and sells electric cars a day in day out! They have a specific page dedicated to their valued customers. All the stories shared by their customers explain how two guys were able to fit eight beer kegs in an SUV, while another story talks about how a mother uses her Tesla for her family of five.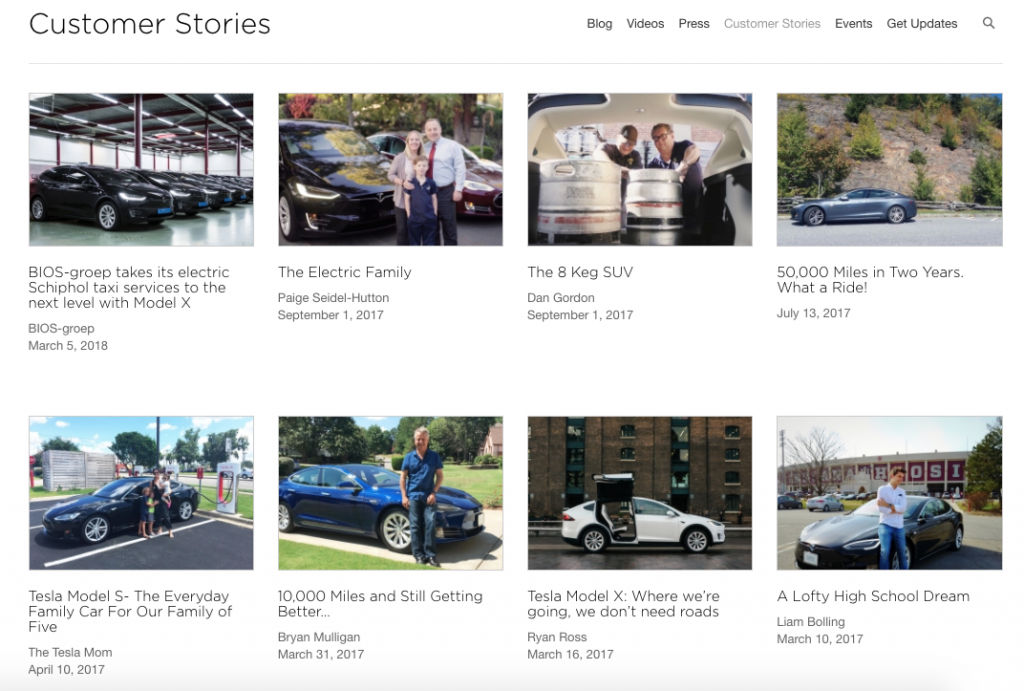 Neil Patel says, your customer should buy a part of the story, not just a product. In the end, he won't just buy a product but will be participating in the story itself. A customer must always feel as if they are buying part of the story whenever they purchase your product. Another interesting example to take into account is of Patagonia; I personally believe that this brand has the potential to take things to a whole new level. It may quite interest you to know that it uses the term "worm wear" to describe their clothing products. Also, it places the story directly into the product itself. Customers are buying that product, and in so doing, they are buying the brand story. Here is a link of videos by their customers.
This means the customer owns the story; therefore, they trust it. One can say, in the literal sense the customer is now part of your story. They've bought into it.
In a nutshell…
Your brand story reveals the reason for your existence, hedge one's bets!