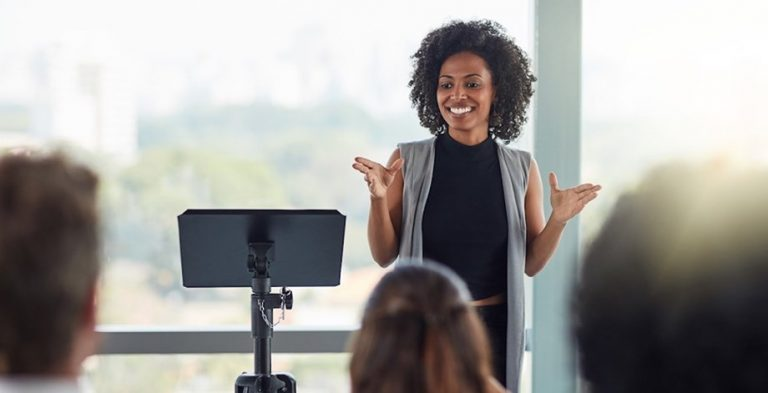 As a meeting planner, you know the importance of booking keynote speakers who will engage your audience. In fact, according to event software company Bizzabo, 53 percent of surveyed planners admit attendees crave more interaction during speaker segments, and many work tirelessly to vet and book talent that will deliver such an experience. After all, engagement and satisfaction play huge roles in determining whether attendees will come back next year.
Once the conference is over, it's important attendees walk away feeling that they've gained valuable insight; and it's your job to help presenters capture their attention. But how?
These days, presenters have countless resources at their fingertips, yet many still rely on linear PowerPoint bullets for their presentations. It's time to revolutionize the presentation structure. To ensure your presenters deliver maximum audience engagement, encourage them to put the following into action.
Foster a Conversation
The presentation goes beyond a speaker's time at the podium. Planners should focus on enticing presenters to nurture the conversation with their audience from as early as the planning stage. Before the meeting, use your event's social media channels to build trust and start conversations. Post content related to the speaker's anticipated topic or focus. Augment all posts with event hashtags, witty memes, GIFs and creative video content to further inspire audience sharing and engagement.
If the speaker is willing to join the social conversation prior to the event, they'll be one step ahead of connecting with attendees. Encourage them to create and share content while the upcoming event is being promoted, with the incentive that they will be featured across all event platforms. Promoting compelling content and encouraging social conversations will better allow your speaker and audience to build rapport and helps both parties to prepare for what's to come once showtime arrives.
The same holds true after the meeting. Ask the presenter if they would be willing to offer session recaps, and answer questions and engage with your event's audience via their social media channels, the event app or any other platform they could use to keep the conversation going. Again, remind them to populate all posts and interactions with the event hashtag.
Set Up for Success
Room design plays an integral role in helping meeting attendees to feel engaged and a part of speaker presentations. Set up for success by rearranging seating patterns in the conference room or on the show floor before the event takes place. After assessing your audience size and space constraints, you can manipulate the seating layout to support a more interactive session experience.
Setting up banquet style (round table) seating instead of the uninventive classroom‐style layout might encourage people to look at each another and exchange more opinions, ideas, insights and takeaways. Other offbeat seating arrangements to consider include orchestra (curved theater seating that "hugs" the main stage) and boardroom (one large table, which is ideal for smaller groups).
Involve the Audience
Picture your keynote speaker presenting to a room full of salespeople about the benefits of cold-calling potential venues. They most likely wouldn't even be able to present on their second slide before attendees' eyes start glazing over. However, if the speaker were to include the audience in their presentation — say, by using live‐polls, audience-involved demonstrations and interactive Q&A's — they'd have a better chance of capturing interest from the get-go.
Interactive presentation content is fun, engaging and evokes emotion. By involving the audience, the speaker will not only break up the monotony of a slide show, they'll also give their audience some autonomy and responsibility over the topic and flow of the presentation.
When the audience members are back at work following the meeting, it's going to be the memories of engagement and interaction that make them think that attending the session was truly worthwhile.
Recycle Strong Content
Employ presentation management strategies such as archiving a slide library that will make content easy to find and share among the appropriate parties once the meeting is over. That provides control over the content and allows you track usage.
Working from a slide library ensures that the presentation's message will remain consistent. It also saves time. There's no need for your speaker to waste hours trying to come up with a new, catchy hook to lure your audience in when they can use what's already branded and approved. Edits and adjustments can be made to the message based on the intended audience.
Content is still king. But by encouraging presenters to deliver it in a more conversational and interactive manner, you'll help them keep your audience engaged — which will, in turn, drive results. So the next time you see a presenter piecing together a bulleted slide show, direct them to an approach that's more natural and interactive.
AlexAnndra Ontra is the co‐founder and president of Shufflrr, a presentation management platform, and co-author of Presentation Management: The New Strategy for Enterprise Content.